20-Day Trans-Canada Highway Road Trip
From British Columbia to Newfoundland and Labrador, the Trans-Canada Highway, also known as Highway 1 is the longest highway in the world. Filled with mind-blowing scenery, bustling towns and national parks, this road trip really is like no other in the world. Explore cities such as Vancouver, Calgary, Montreal and Quebec City, discover world-renowned national parks and relax in pristine nature on this 20-day Trans-Canada Highway road trip.
Trans-Canada Highway Itinerary:
Day 1 & 2: Victoria to Vancouver
Day 3 & 4: Vancouver to Salmon Arm
Day 5 & 6: Salmon Arm to Glacier National Park of Canada, Banff National Park & Calgary
Day 7 & 8: Calgary to Vulcan & Saskatchewan
Day 9 & 10: Saskatchewan & Manitoba
Day 11: Manitoba to Thunder Bay
Day 12 & 13: Thunder Bay to Batchawana Bay & Sault Ste. Marie
Day 14: Sault Ste. Marie to Ottawa
Day 15 & 16: Ottawa to Montreal and Quebec City
Day 17 & 18: Quebec City to Prince Edward Island
Day 19 & 20: Prince Edward Island to Newfoundland
---
Day 1 & 2: Begin your road trip in British Columbia and travel to the vibrant Vancouver
Starting your journey in Victoria, British Columbia, you will be able to explore the pristine lakes, beaches and attractions this stunning location boasts. From Craigdarroch Castle to whale watching, your options are endless!
Your next stop will take you to Vancouver - a diverse and bustling city situated on the west coast of BC.
We recommend exploring Stanley park. This park follows the coastline of the seaport. Other must-see locations include Granville Island and the trendy Gastown.
Day 3 & 4: Relax for a few days in Salmon Arm
Fancy relaxing in nature? You will fall in love with Salmon Arm.
From Herald Provincial Park to Shuswap Lake, this area is perfect for fishing and kayaking.
There are also a range of wineries, restaurants, forests and of course the beautiful Margaret Falls.
Day 5 & 6: Get in touch with nature at the Glacier National Park of Canada & Banff National Park
You'll see why people travel all over the world to check out Canada's National Parks, where Glacier National Park is no exception. Check out Illecillewaet Glacier as well as Rogers Pass, the Rogers Pass National Historic Site and the surrounding mountains.
Banff National Park is a plethora of stunning sights. From the power blue Moraine and Peyto Lake to the Lake Louise Ski Resort, you will be in awe of this magical area.
Nearby is the city of Calgary. There are many accommodation options here and endless things to do such as checking of the Calgary Zoo, Museum, Art Gallery and Prince's Island Park.
Day 7 & 8: Explore tourist hotspots in Vulcan & Saskatchewan
As you pass through Vulcan, you can stop by and check out Starship Enterprise. If you are a fan of the Star Trek series, you will love exploring the area.
Next up is Saskatchewan! Visit Prince Albert National Park or head into the city of Saskatoon. Set on a stunning river, discover the Wanuskewin Heritage park and Saskatoon Forestry Park and Zoo.
Moose Jaw like its name states, is home to a 32 foot tall Moose landmark which is an iconic tourist hot spot on your Trans-canada highway road trip.
Day 9 & 10: Wine, dine and discover Manitoba
Winnipeg is the capital of the province of Manitoba. While you're in the city centre, visit The Forks - an amazing area to shop, wine and dine.
From there, you might like to see the Canadian Museum for Human Rights and the Assiniboine Park Zoo
Whiteshell Provincial Park is filled with magical lakes such as Falcon Lake and West Hawk as well as the amazing Falcon Ridge Ski Slopes. Perfect for skiing, kayaking, hiking and relaxing, visit Winnipeg and explore some of the best parts of Canada.
Day 11: Experience Thunder Bay
Start off your adventure in Thunder Bay at Kakabeka Falls. This 40 metre high waterfall is seriously impressive and a great place to start your day.
From there drive to the Fort William Historical Park where you will be transported back to 1816 to see a reconstructed fur trade post!
You will end your day exploring Mount McKay, Ouimet Canyon Provincial Park and the relaxing Hillcrest Park.
Day 12 & 13: Continue to Batchawana Bay & Sault Ste. Marie
Set on the water, Batchawana Bay in Ontario has some gorgeous areas to stop in and discover. The Coppermine Point Lighthouse, Chippewa Falls and Alona Bay are just a handful of beautiful destinations to check out.
A stand out area is Pancake Bay Provincial Park - it's a stretch of beach that runs for 3km, and is the perfect place to camp and hike through.
Sault Ste. Marie is a historic town that is home to stunning 19th-century architecture. Did you know that Sault Ste. Marie sits on U.S. border? Explore the Bushplane Heritage Centre and the Art Gallery of Algoma.
Day 14: Head over to Ottawa
Welcome to the capital of Canada! Ottawa is home to endless Canadian history and is an essential road trip stop. While you are in Ottawa, visit Parliament Hill, the National Gallery of Canada, Gatineau Park and the Notre-Dame Cathedral Basilica.
The Rideau Canal which was man-made in 1832 is a stunning place to ride a bike along. It is also a UNESCO Heritage site and an iconic area of Ottawa.
Major's Hill park can be found right near the Rideau Canal and Parliament House. Have a picnic and relax in the sun for a few hours.
Day 15 & 16: Discover the bustling Montreal and Quebec City
Set on the Saint Lawrence River, Montreal is a stunning city in Quebec. In order to see this city in all its glory, check out Mont-Royal for sweeping views of the city. Old Montreal is an essential tourist destination and is home to many historical buildings.
Locals rave about Montreal's Botanical Gardens and for good reason! With countless themed gardens, you will be in awe of this cities hidden gem.
Will you be on your road trip in winter? If so, you will be able to witness one of Quebec City's famous events. The Carnaval de Quebec is a winter lover's dream come true. From ice-skating to venues made of snow, you will feel like you are in a winter wonderland.
Day 17 & 18: Chill out on Prince Edward Island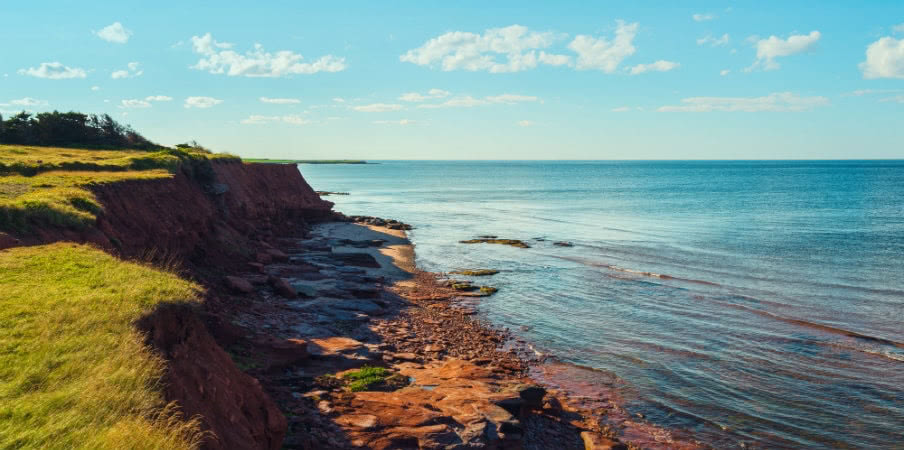 Prince Edward Island can be found off the coast of Nova Scotia. The Prince Edward Island National Park is a popular destination due to its range of stunning natural displays.
Are you a fan of the famous Anne of Green Gables? If so, you can check of the Heritage home which actually inspired the author to write the novels.
For amazing visual and performing arts, the Confederation Centre of Arts is a must-visit. You'll find this awesome centre in Charlottetown.
Day 19 & 20: Welcome to Newfoundland and Labrador
Known as a hiking hotspot, Gros Morne National Park is a UNESCO World Heritage Site that is a stunning display of what a time span of 480 million years can create. From hiking summits, kayaking through glacier carved fjords and whale watching, there are endless arrays of things to do.
Try the Green Gardens, Burnt Hill and the East Coast Trail hikes and go bird watching at Cape St. Mary's Ecological Reserve.
St. Johns is a charming town set on the water. Filled with colourful houses and gorgeous streets set upon the cliffs, St. Johns is full of history and culture. There are award-winning restaurants, amazing nightlife and art galleries to see while you are here.
---
Map of Trans-Canada Highway Road Trip
Did you know that you can download this map directly to your phone? Press the box symbol located on the top-right corner of this map to open in your Google Maps app. Now you can easily access this map on your next road trip adventure from Victoria to Newfoundland.
Travel time and distance: 79 hours / 7,094km
---
Other popular road trip destinations